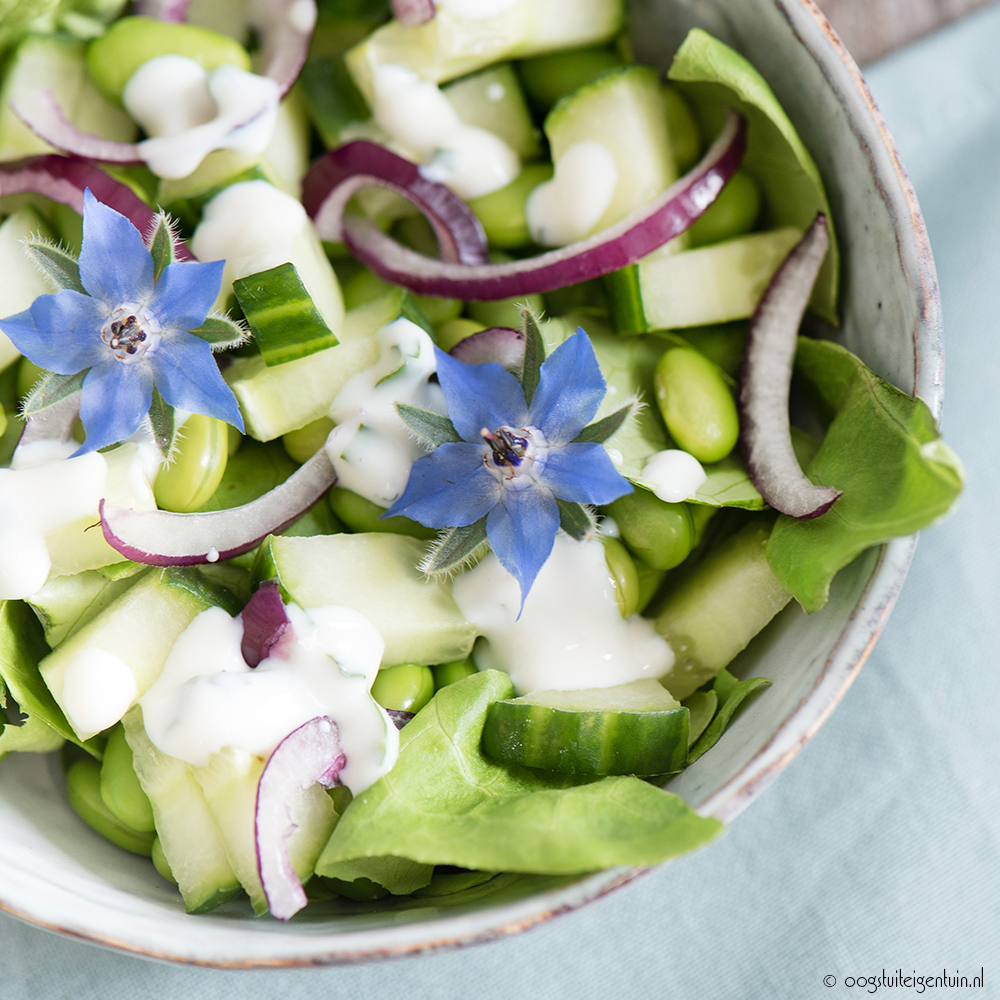 26 jul

Groene salade met komkommer en yoghurt-tuinkruidendressing
Komkommer
Het is weer komkommertijd! En dat betekend dat er niet zo heel veel nieuws is. We zijn of lekker op vakantie of doen het lekker rustig aan. Ook op de tuinderij pakken we als het het heel warm weer is af en toe een extra rust-momentje en nuttigen we onze lunch in de schaduw. Deze groene salade met komkommer en verse kruiden uit de moestuin past hier goed bij, lekker met een stukje brood.
Ingrediënten
voor 2 personen
1 flinke hand botersla
1 medium rode ui gesneden
1 komkommer
handjevol gekookte tuinbonen
3/4 kop biologische yoghurt
theelepel suiker
1 1/2 theelepel witte wijn azijn
verse groene kruiden (munt, bieslook, dille)
Bereidingswijze
Was de sla, komkommer en evt. de groene kruiden. Snij de sla en de komkommer en doe in een sla-kom. Snij de rode ui in dunne ringen en doe samen met de tuinbonen bij de sla.
Meng in een kommetje de yoghurt met azijn en suiker. Snijd de verse kruiden fijn en voeg deze toe aan de dressing. Bewaar wat kruiden ter garnering. Breng op smaak met peper en zout. Zet apart.
Garneer evt. met walnoten voor een 'extra' bite en versier de salade met de blauwe bloemen van komkommerkruid.