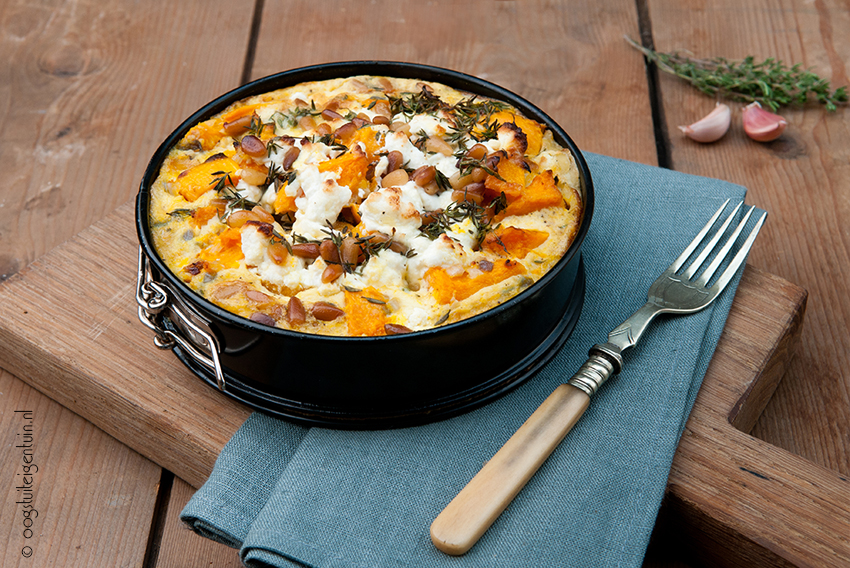 10 jan

Pompoentaartje met geitenkaas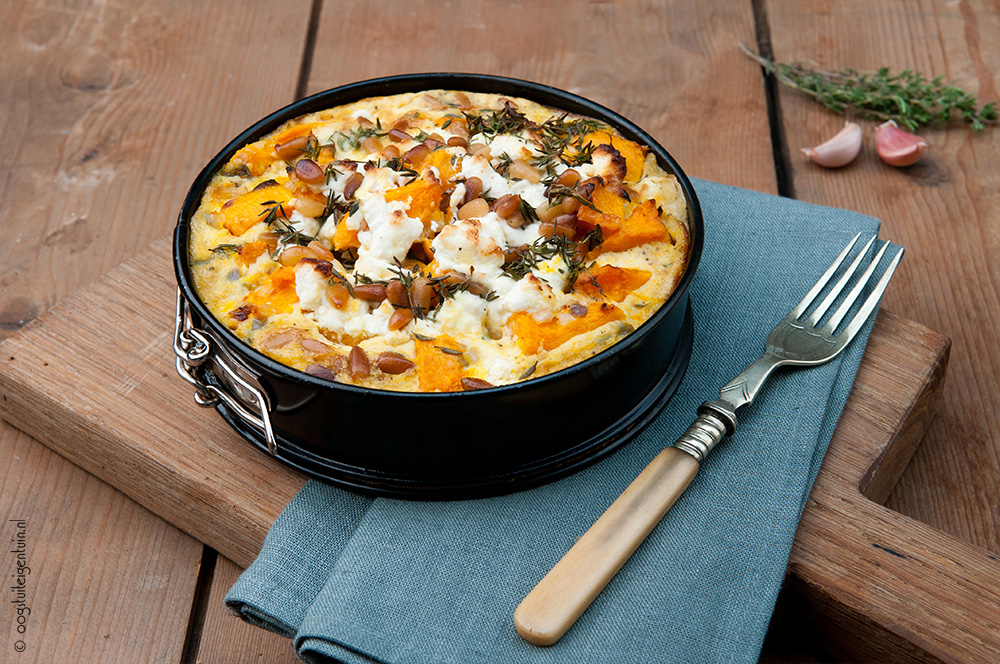 Pompoen
Een lekker winters gerecht dit pompoentaartje met geitenkaas. Wist je dat de oorsprong van de pompoen in Mexico ligt en het noordelijk deel van Zuid-Amerika? Er zijn aanwijzingen dat de pompoen er al 7000 jaar voor Christus geteeld werd. Pompoenen zijn nog steeds belangrijk voor de familielandbouw van Zuid- en Midden-Amerika. Vaak worden ze tussen andere gewassen geteeld. Niet alleen de vruchten, maar ook de bloemen, jonge stengeltoppen en zaden worden gegeten. De pompoen behoort tot de komkommerachtigen, evenals de augurk, courgette en meloen.
Ingrediënten
voor 6 personen
500 gram (fles)pompoen, geschild en in blokjes gesneden
2 kleine rode uien, fijn gesneden
1 theelepel olijfolie
50 gram pijnboompitjes
150 gram zachte geitenkaas, verkruimeld
1 volle theelepel verse tijm
1 ei
180 ml slagroom
6 plakjes hartig bladerdeeg
verse peper en zout uit de molen
springvorm van 24 cm doorsnee
Bereidingswijze
Verwarm de oven voor op 180 graden. Snipper de rode ui en schil de pompoen en snijd in blokjes. Leg de ui en pompoen vervolgens op een bakplaat en breng op smaak met een beetje verse peper en zout en doe er wat olijfolie op. Plaats de bakplaat in het midden van de oven en bak 15 minuten of totdat de pompoen net gaar is. Laat afkoelen. Bak ondertussen de pijnboompitjes lichtbruin en doe deze bij de pompoen.
Vet de springvorm in met olijfolie of een beetje boter en bekleed met bladerdeeg. Verkruimel de geitenkaas door de pompoen en verdeel het mengsel over de springvorm.
Klop de slagroom samen met het ei met een garde. Voeg de tijm toe en breng op smaak met peper en zout. En schenk over de pompoen. Bak de taart ongeveer 20 minuten in de voorverwarmde oven, totdat het deeg gaar en goudbruin is.
Lekker met een frisse salade.