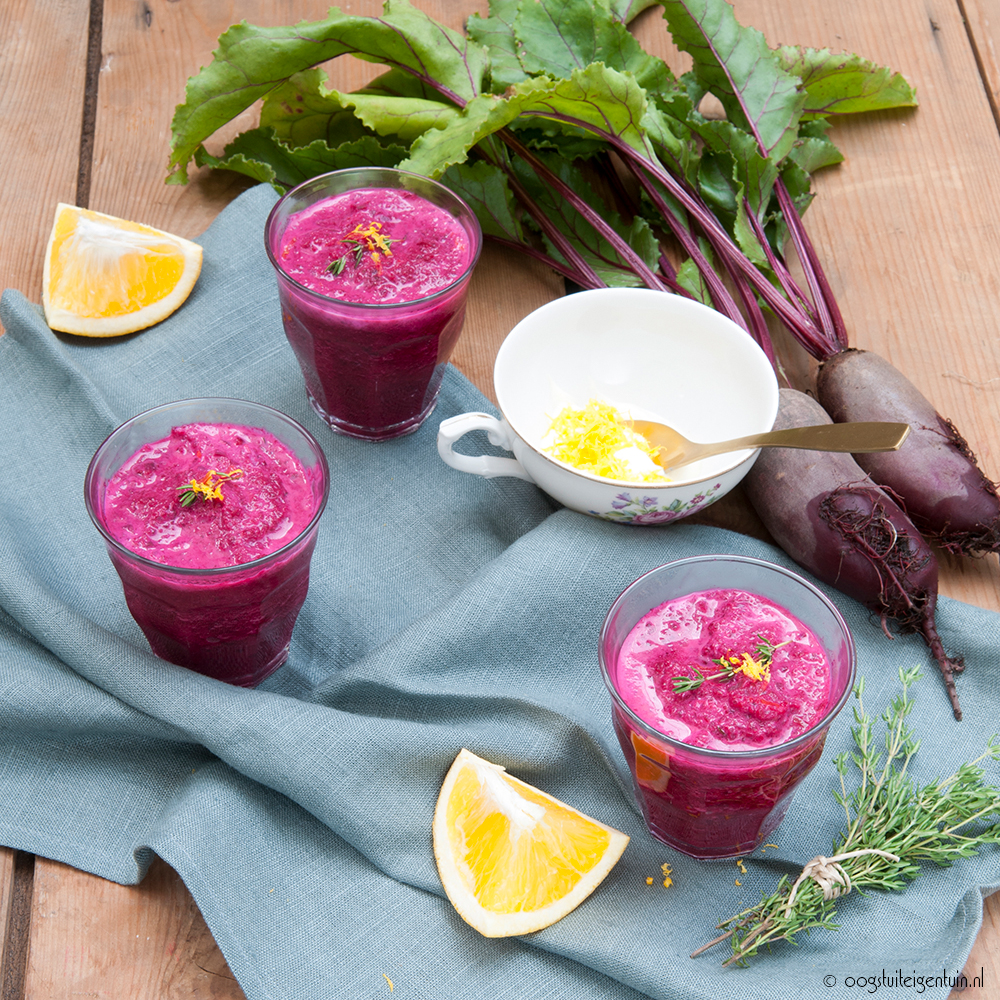 30 aug

Zomerse bietensoep met sinaasappel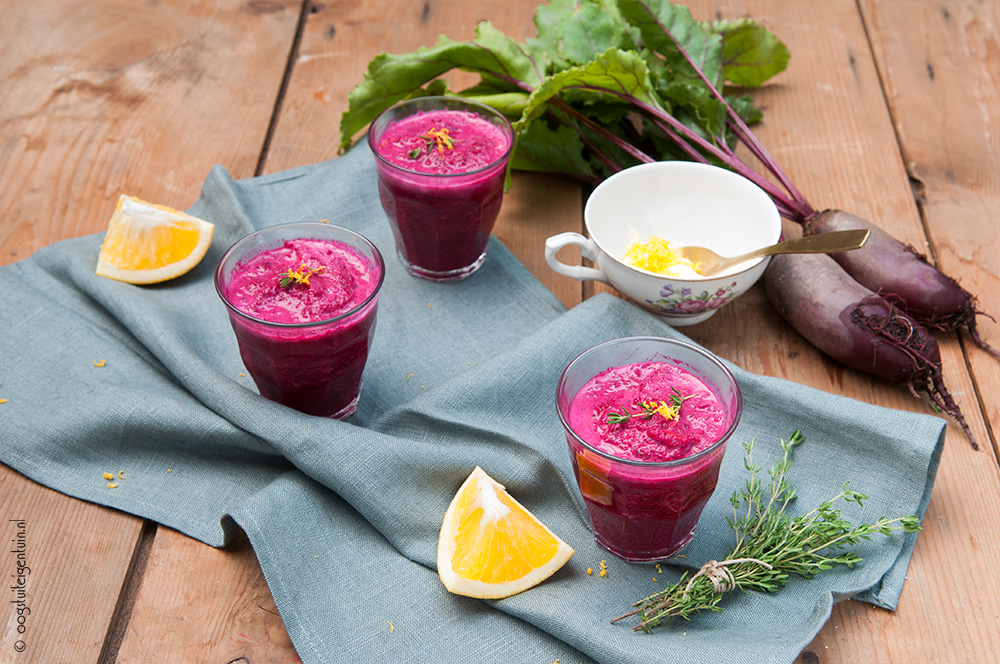 Forono biet
Deze heerlijke Forono biet is lekker om te bakken of in de soep te gebruiken. Rode bieten zijn donkerrode knollen met groen blad met rode nerf. Ze worden ook wel kroten genoemd. Er zijn zomer- en winterbieten.
De bietjes die geoogst worden bij de Tuinderij worden in bosjes gebonden met het groen loof. Het loof kun je goed gebruiken voor een salade of om te wokken. De rode biet die wij kennen, heeft men al ergens in de 16e eeuw ontdekt als een voedzame en lekkere groente. De rode kleur die bieten hebben komt door de natuurlijke kleurstof betanine die erin zit. De Forono-bietjes (oer-bietjes) zijn langwerpig van vorm, waarvan zowel het blad als de biet gegeten kunnen worden.
Ingrediënten
6 à 8 Forono bietjes (het loof mag er ook bij)
olijfolie
1 middelgrote ui, gesnipperd
2 tenen knoflook
4 takjes tijm gerist en gehakt
1 blad laurier
2 sinaasappels geperst en de schil geraspt
0,5 dl crème fraîche
Bereidingswijze
Was de bietjes schoon met water. Kook de bietjes voor in een pan met ruim water ongeveer 20 minuten, zodat je de schil makkelijk kunt verwijderen. Gooi het kookwater niet weg! Laat de bietjes een beetje afkoelen, schil en snij in blokjes. Zet de bietjes aan in een ruime pan met ui, knoflook, tijm en laurier. Voeg als alles glanst het sinaasappelsap toe.Voeg vervolgens het kookwater toe aan de bietjes (wat meer pit voeg een groentebouillonblokje toe) tot alles ruim onder water staat. Breng aan de kook en laat op zacht vuur 25 à 30 minuten pruttelen.
Meng de sinaasappelschil met peper en zout door de crème fraîche. Vis het laurierblaadje uit de pan en pureer het mengsel tot een gladde soep; breng op smaak met peper & zout. Voeg indien nodig extra bietenwater toe tot de soep vloeibaar, maar niet te dun is. Schenk de soep in kommen en doe er een schepje sinaasappel-crème fraîche op. Serveer direct.
Tip: Voor een pittiger soep kun je een stukje geschilde, fijn geraspte gemberwortel toevoegen.